Event Location: Bere Marsh Farm
10:00 16/07/2022
to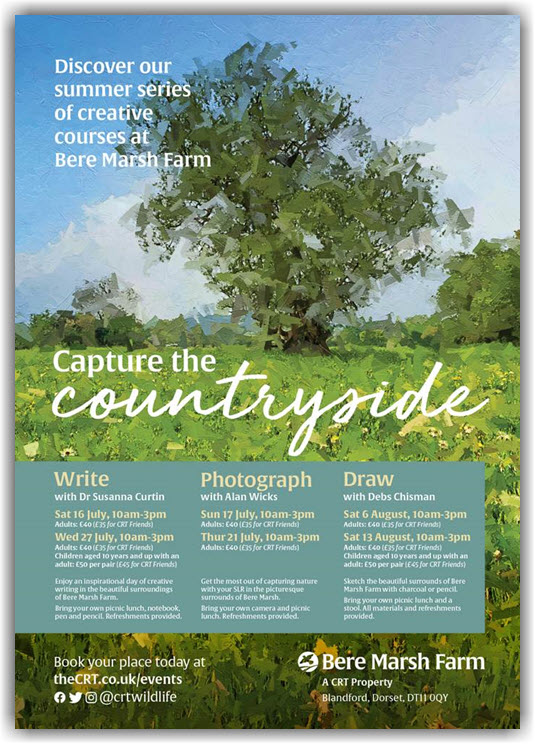 The CRT invite you to relax, learn, and create this summer in the beautiful surroundings of Bere Marsh Farm, Dorset.
The CRT are delighted to announce a series of creative courses launching next month.
From painting to photography or creative writing, each one is hosted by a Dorset based expert and designed to show you a new side of nature.
Let your creativity soar this summer...
Write with Dr Susanna Curtin
Saturday 16th July | 10am to 3pm | Adults £40 (£35 for CRT Friends)
Wednesday 27th July | 10am to 3pm | Adults £40 (£35 for CRT Friends) - Children aged 10 years and up with an adult £50 per pair (£45 for CRT Friends)
Photograph with Alan Wicks
Sunday 17th July | 10am to 3pm | Adults £40 (£35 for CRT Friends)
Thursday 21st July | 10am to 3pm | Adults £40 (£35 for CRT Friends)
Draw with Debs Chisman
Saturday 6th August | 10am to 3pm | Adults £40 (£35 for CRT Friends)
Saturday 13th August | 10am to 3pm | Adults £40 (£35 for CRT Friends) - Children aged 10 years and up with an adult £50 per pair (£45 for CRT Friends)